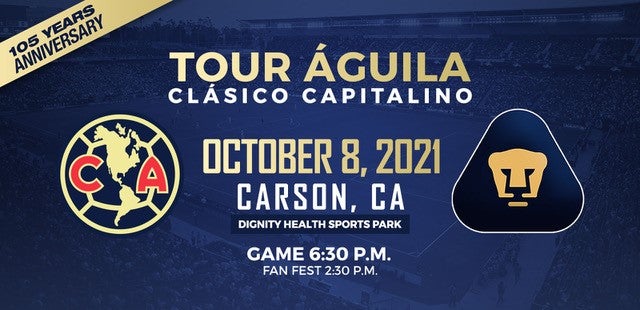 Tour Aguila: Club América vs Pumas UNAM
Tour Aguila: Club América vs Pumas UNAM
The long-awaited Mexico City Derby between Club América and Pumas UNAM, will arrive on October 8th to celebrate Club América's 105th anniversary.
Club América is the Liga MX team with the most fans in the United States and once again, it is experiencing a spectacular season as the leader of the current standings. Pumas UNAM is one of the most popular clubs in Mexico, having won seven league titles and four international titles.
This match was originally scheduled for March 28, 2020, but had to be postponed due to the pandemic. Tickets purchased for the original date will be valid for this match.
Fans will be able to enjoy the Fan Fest starting at 2:30 p.m., which will consist of live music, food, mascot, championship trophy and an autograph session from a Club América legend.