July

5

, 2017
StubHub Center Monthly Calendar: July 2017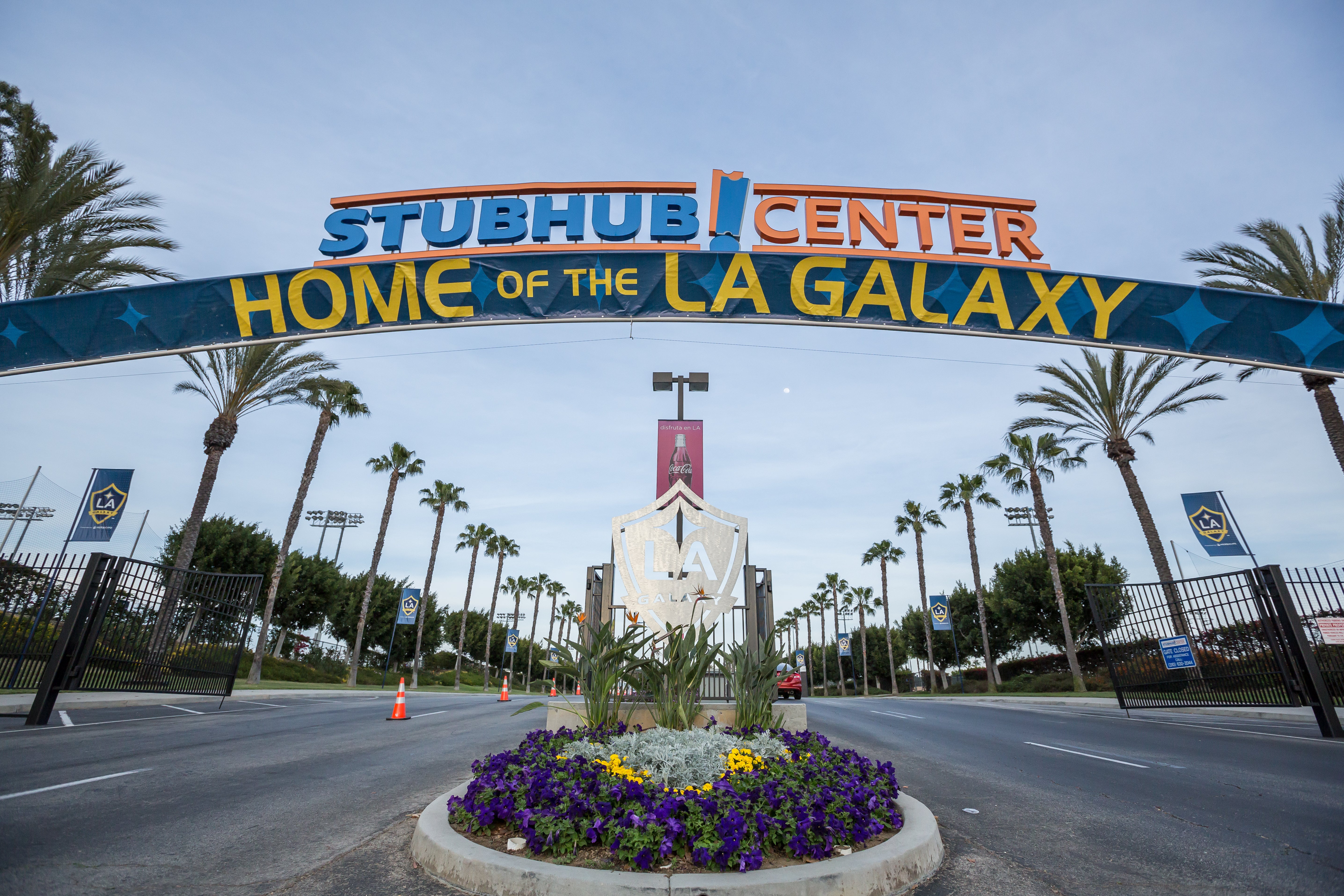 CARSON, Calif. (Tuesday, July 4, 2017) - The full calendar of StubHub Center event times and information during July 2017 is outlined below. Any media interested in covering an event below or receiving additional information can contact a member of the StubHub Center Communications Department.
Tuesday, July 4th (Independence Day) – 7:30 PM: LA Galaxy vs. Real Salt Lake
LA Galaxy will put on a postgame Fourth of July Fireworks Show for the 22nd consecutive year after the team's annual Independence Day match on Tuesday, July 4 against Real Salt Lake. Tickets to the match are available here.
Friday, July 7th – 5:00 PM: Pitch & Pale Presents DW3 & Angie Fisher
Pitch & Pale the summer concert series is back for another amazing summer of fun-filled Friday nights! Taking the stage in July are DW3 and Angie Fisher. At the free event, concert-goers can dine at award-winning food trucks, sip local craft beers and enjoy live music.
Thursday, July 13th – 7:30 PM: LA Galaxy II vs. Tulsa Roughnecks FC
In the three seasons since the team's inaugural year in 2014, LA Galaxy II has been the proving ground for future LA Galaxy players including Daniel Steres, Jack McBean, Dave Romney, Clement Diop and more. They've also proven to be one of the most successful teams in the USL, reaching the playoffs in each season of competition. Tickets to the match are available here.
Friday, July 14th – 9:00 AM: Return the Serve Fun Day
For the fourth consecutive year, Chase Bank is proud to partner with the USTA Foundation to support National Junior Tennis & Learning program.s Through a $100,000 grant to the USTA Foundation, 20,000 children will benefit from ongoing programs that are helping to strengthen communities across the country. The USTA will celebrate the Return the Serve Fun Day on July 14th, 2017 at First Break Academy at StubHub Center.
Saturday, July 15th – 7:00 PM: LA Galaxy vs. Manchester United
LA Galaxy, in conjunction with Relevent Sports, will host Premier League side Manchester United at StubHub Center on Saturday, July 15. 2017 LA Galaxy Season Ticket Members will receive 50% off tickets to the match. Tickets to the match are available here.
Founded in 1878, the Red Devils have competed in the top flight of English soccer since 1938, with the exception of the 1974/75 season. Led by renowned Portuguese manager José Mourinho, Manchester United are one of the world's most recognized clubs due to their unparalleled success in England and in European competition. United have won 20 English First Division titles, a joint-record 12 FA Cup titles, three European Cups and a FIFA Club World Cup. Manchester United were also the first team in English history to win the treble of the Premier League, FA Cup and UEFA Champions League.
Manchester United currently boast some of the world's most talented and recognizable players, including midfielder Paul Pogba, forward Wayne Rooney, midfielder Juan Mata, forward Anthony Martial, goalkeeper David de Gea, midfielder Henrikh Mkhitaryan and midfielder Marouane Fellaini, among others.
Sunday, July 16th – 2:30 PM & 7:45 PM: Campeón de Campeones and SuperCopa
Liga MX, in conjunction with Univision Deportes, Soccer United Marketing and the LA Galaxy, will host Campeón de Campeones (Champion of Champions) and SuperCopa in a doubleheader Sunday at StubHub Center.
In the evening match, Campeón de Campeones, the emblematic Mexican championship match will decide the ultimate Copa MX champion, played between Tigres and Chivas Guadalajara.
SuperCopa, which will decide the ultimate Copa MX champion, will be played between Querétaro and Club America. That match will kick off at 2:45 p.m.
Tickets for the event are available here.
Wednesday, July 19 – 7:30 PM: LA Galaxy vs. Vancouver Whitecaps
Be a part of the excitement when Giovani dos Santos, Jelle Van Damme and your LA Galaxy take on Matias Laba, Christian Bolaños and the Vancouver Whitecaps in their second regular season meeting of 2017. Tickets to the match are available here.
Saturday, July 29 – 3:00 PM: LA Galaxy Presents Rise Faith Night
The LA Galaxy will host RISE, pre-game event of live music, a motivating message, and a time of worship ahead of the Galaxy's match on Saturday, July 29 against Seattle Sounders FC. The pregame concert will feature Christian hip hop artist, Tedashii, Contemporary Christian musician, Blanca and worship with Grammy Award winning artist, Matt Redman.
Saturday, Jul 29 – 7:00 PM: LA Galaxy vs. Seattle Sounders FC
Another edition of this heated MLS rivalry will take place when five-time MLS Cup Champions LA Galaxy take on reigning MLS Cup Champions Clint Dempsey, Jordan Morris and the Seattle Sounders. Tickets to the match are available here.
Sunday, July 30 – 6:30 PM: LA Galaxy II vs. OKC Energy FC
Come out and see the future stars of the LA Galaxy as they take on the OKC Energy, FC Dallas' USL affiliate. As the proving ground of the LA Galaxy, eight current LA Galaxy players have been signed from LA Galaxy II. Tickets for the match are available here.
Monday, July 31 – Sunday, Aug. 6: USA Elite & Junior Track National Championships
The fastest track cyclists in the country will head to the VELO Sports Center located at StubHub Center for seven days of adrenaline packed racing July 31- Aug 6. America's premier velodrome is excited to host the USA Cycling Elite and Junior Track National Championship and welcome riders from around the country. Morning sessions are free, afternoon and evening sessions are $20. Doors open one hour prior to the start of an event. Click here for more information on USA Cycling.
StubHub Center – July 2017
| | | |
| --- | --- | --- |
| DATE | TIME (PT) | EVENT |
| Tuesday, July 4 | 7:30 p.m. | MLS: LA Galaxy vs. Real Salt Lake |
| Friday, July 7 | 5:00 p.m. | Pitch & Pale Presents DW3 & Angie Fisher |
| Thursday, July 13 | 7:30 p.m. | USL: LA Galaxy II vs. Tulsa Roughnecks FC |
| Friday, July 14 | 9:00 a.m. | Return the Serve Fun Day |
| Saturday, July 15 | 7:00 p.m. | International Friendly: LA Galaxy vs. Manchester United |
| Sunday, July 16 | 2:30 p.m. | International Friendly: Campeón de Campeones and SuperCopa |
| Wednesday, July 19 | 7:30 p.m. | MLS: LA Galaxy vs. Vancouver Whitecaps |
| Saturday, July 29 | 3:00 p.m. | LA Galaxy Presents Rise Faith Night |
| Saturday, July 29 | 7:00 p.m. | MLS: LA Galaxy vs. Seattle Sounders FC |
| Sunday, July 30 | 6:30 p.m. | USL: LA Galaxy II vs. OKC Energy FC |
| July 31 – Aug. 6 | Times vary | USA Elite & Junior Track National Championships |