Mar

30

, 2017
StubHub Center and LA Galaxy Unveil In-Stadium Green House
Chicken Coop and Beehive as Part of Protect the Pitch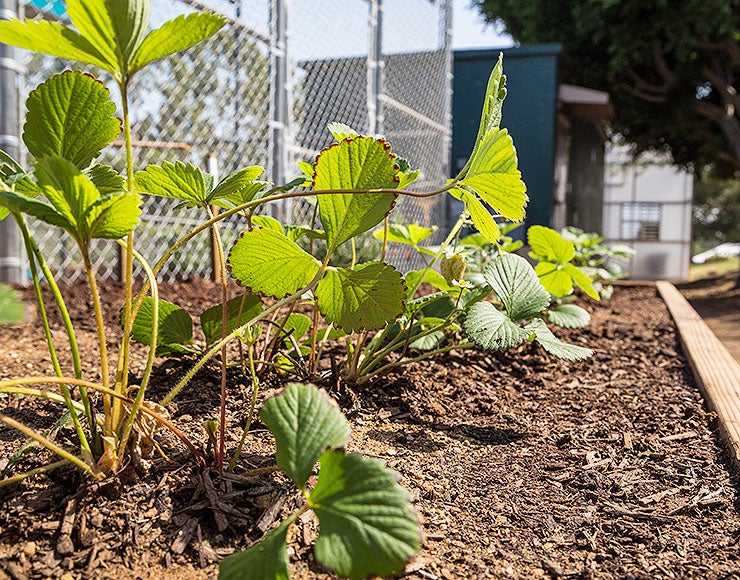 LOS ANGELES, Calif. (Thursday, March 30, 2017) – The LA Galaxy and StubHub Center have launched an in-stadium greenhouse, chicken coop, and beehives that will produce various produce and food, which will be made available at StubHub Center for athletes and staff. The launch is a part of the Protect the Pitch program, an initiative designed to help the LA Galaxy and StubHub Center reduce carbon footprint and become more sustainable.
"We are excited to launch these sustainable initiatives that will allow us to produce various types of food in-house and continue to utilize StubHub Center in a resourceful manner," said StubHub Center General Manager Katie Pandolfo. "Housing and facilitating a green house, bee hives and chicken coop at StubHub Center is extremely unique for a professional sports stadium. We look forward to servicing them as a means to become more self-sufficient in our operations as we continue to engage our community, save water, conserve energy and reduce waste."
Among the new sustainable programs implemented are four bee hives that will produce over 800 pounds of honey each year. Additionally, 12 chickens are now housed in a dedicated chicken coop at StubHub Center and the LA Galaxy Greenhouse that will offer space for various produce. All of these materials will be used in food preparations for LA Galaxy, LA Galaxy II and LA Galaxy Academy players, coaches and staff to provide healthy and sustainable meal options. The LA Galaxy and StubHub Center will also feature space for the local community to utilize to develop produce inside the LA Galaxy greenhouse.
The LA Galaxy and StubHub Center will celebrate Protect the Pitch during a match between the LA Galaxy and Seattle Sounders FC on April 23. The match, presented by TreePeople, will highlight the numerous initiatives implemented by the Galaxy and StubHub Center. A full schedule of programming during the week leading up to the match will be announced in advance of April 23.
Last year, the LA Galaxy and StubHub Center announced the Protect The Pitch program, a club-wide environmental sustainability initiative. Protect the Pitch focuses on reducing the environmental impact of LA Galaxy games and practices at StubHub Center, supporting environmental projects in the community, and inspiring fans to help create healthier, more sustainable communities.
Last July, StubHub Center became the first soccer-specific stadium in Major League Soccer to illuminate its field using high-efficiency LED sports lights. The new upgraded lights use over 60 percent less energy than the lighting array it replaced.
As part of Protect the Pitch, the Galaxy and StubHub Center will continue to implement various efforts designed to engage the community, save water, conserve energy, and reduce waste while involving and encouraging the Galaxy fan base to support these efforts.
PROTECT THE PITCH INITIATIVES
In-House Resources
StubHub Center houses 12 chickens in a dedicated chicken coup on site
StubHub Center is home to four separate beehives which produce over 800 pounds of honey per year
A greenhouse resides that StubHub Center, which produces numerous types of vegetables used to provide food for tenants at StubHub Center
Energy
Motion sensors save energy by ensuring lights stay off when no one is using them
New and upgraded LED lights less 60 percent less energy than the lighting array it replaced
o StubHub Center is the only soccer-specific MLS stadium to utilize LED stadium lights
StubHub Center uses 1-megawatt of Tesla batteries, StubHub Center manages energy usage in a more responsible and environmentally-friendly way
Water
The LA Galaxy irrigate fields at StubHub Center with roughly 50% recycled water, saving about 35 Olympic swimming pools of drinking water each year
StubHub Center uses waterless urinals, low-flow toilets, and faucet aerators to reduce water use in our restrooms
LA Galaxy train employees to help minimize water use when cleaning up the stadium
Waste and Recycling
LA Galaxy capture bottles, cans, cups, cardboard, paper, and more through our recycling program
Our composting program sends grass clippings from our fields to a local nursery and brings them back on-site as mulch
By purchasing recycled-content paper products, we're helping make sure the materials we recycle go to good us
Have irrigated fields and landscaping with recycled water since opening in 2003
Community
LA Galaxy and StubHub Center employees volunteer to help keep our community healthy through numerous initiatives, including planting trees and cleaning up beaches
The LA Galaxy and StubHub Center partner with local nonprofits to organize annual events for Earth Hour, Earth Day, and America Recycles Day
Transportation
StubHub Center features on-site bike racks to make it easier for Galaxy fans to bike to the game
LA Galaxy and StubHub Center launched The Galaxy Express this year, which offers fans free non-stop shuttles to and from StubHub Center for every LA Galaxy home match
o The Galaxy Express can be utilized in two separate locations and operate approximately every 10 minutes
PROTECT THE PITCH PARTICIPATION
At Galaxy games:
Fans can recycle bottles, cans and cups in the designated recycling bins, both inside StubHub Center and in tailgating areas
Team up with friends and family to carpool to Galaxy games
Utilize The Galaxy Express shuttle to go to and from StubHub Center
Use the designated drop-off and pick-up zone at StubHub Center
At home:
Energy
Galaxy fans can turn off the lights and adjust the heating or cooling when not home to save energy
When replacing appliances, look for ENERGY STAR® models to conserve energy
Water
Experiment with watering your lawn less frequently. Most home water use happens in your yard.
When replacing bathroom or kitchen fixtures, look for WaterSense® products to save water
Waste and Recycling
Galaxy fans can recycle at home and are encouraged to set up a compost bin for food waste.
Buy perishable food in smaller quantities to reduce food waste (and save money!)
Transportation
Fans are encouraged to carpool, use public transportation, or cycle to try to reduce your carbon footprint