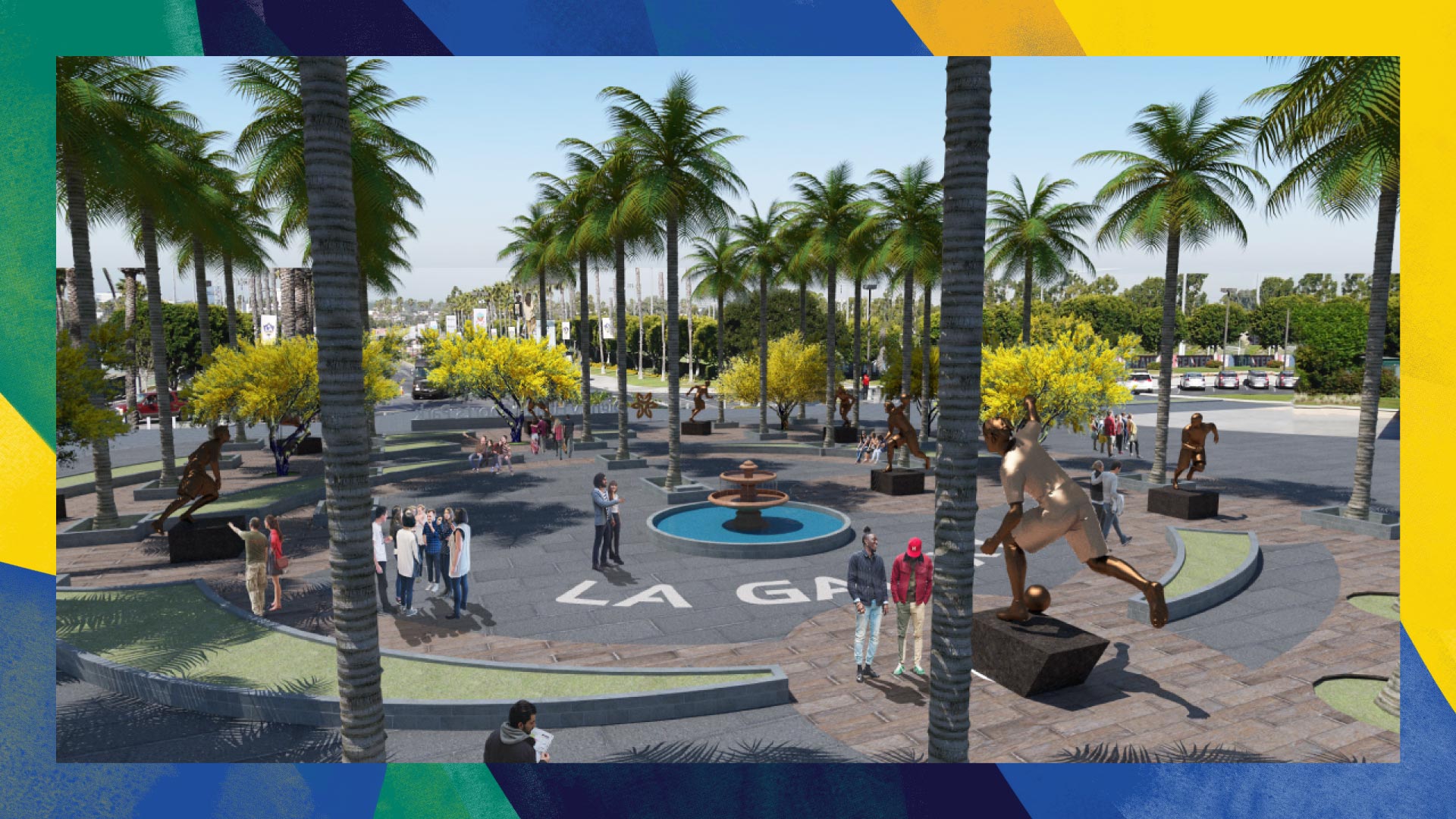 Feb

25

, 2019
LA Galaxy and Dignity Health Sports Park announce creation of Legends Plaza
Built to honor LA Galaxy legends, the plaza will be home to a series of statues set to begin with the installment of a David Beckham statue at the LA Galaxy's 2019 Home Opener against the Chicago Fire on Saturday, March 2 live on FS1. Legends Plaza will be unveiled to LA Galaxy fans at 2:30 p.m. PT in advance of kickoff. All fans attending are encouraged to arrive by 2 p.m. PT.
"The Legends Plaza at Dignity Health Sports Park continues our commitment to be the finest soccer-specific stadium in Major League Soccer," said LA Galaxy President Chris Klein. "Legends Plaza is a way for our club to honor the history of our club and the many great players that have worn the LA Galaxy jersey. For years to come, Legends Plaza will be an ideal place for fans to gather before and after matches at Dignity Health Sports Park."
The creation of Legends Plaza will see the stadium's main entrance become a hub for all fans at all LA Galaxy game days. Located at the top of the picturesque driveway A, Dignity Health Sports Park's main entrance, Legends Plaza will feature open areas for seating as well as outdoor LED screen for live events and watch parties. The area is already home to the LA Galaxy Team Store and the Dignity Health Sports Park Main Box Office. LA Galaxy and Dignity Health Sports Park have plans to add statues of other LA Galaxy legends to Legends Plaza in the coming years.
"Legends Plaza adds tremendous value to the incredible stadium atmosphere that we've built with the LA Galaxy," said Dignity Health Sports Park General Manager Katie Pandolfo. "This stadium is a world-class venue for a world-class team, and Legends Plaza adds to the long list of reasons that our stadium is a must-visit for any fan of the sport."
Legends Plaza will open up to fans on the day of the LA Galaxy's 2019 Home Opener vs. Chicago Fire. The match will take place at 5 p.m. PT on Saturday, March 2. The new David Beckham statue in Legends Plaza will be unveiled ahead of the match.