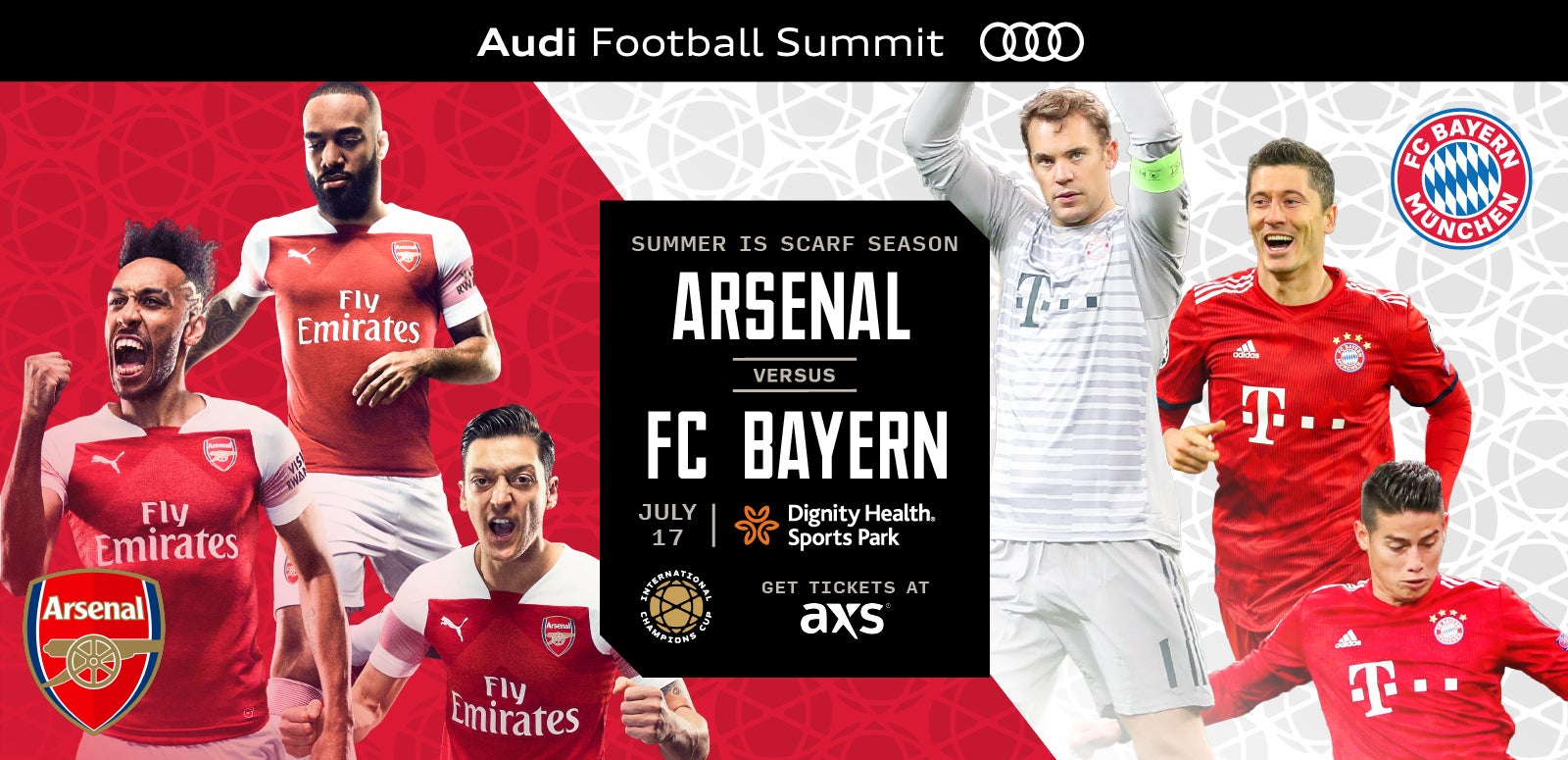 Mar

27

, 2019
Dignity Health Sports Park to host 2019 ICC match between Arsenal and FC Bayern on July 17
Relevent Sports Group (RSG) today announced that the 2019 International Champions Cup (ICC) will return to Dignity Health Sports Park for a match between Arsenal and FC Bayern on July 17.
Exclusive US presale tickets will be available starting April 2, 2019, with general on-sale ticket access starting on April 9, 2019. For access to the presale, fans can sign up on the International Champions Cup website. All venue-specific and other ticket information is located on the ICC website.
SIGN UP FOR ICC LOS ANGELES PRE-SALE: CLICK HERE
The tournament's seventh installment includes world class and groundbreaking matchups highlighted by the historic rivalry between Real Madrid and Atlético de Madrid which will be played for the first time outside of Europe on July 26th, in MetLife Stadium. This year's clubs include past winners of UEFA Champions League and all the major European leagues and Liga MX. Since its debut, this level of competition has established the ICC as a fixture on the soccer calendar and the start of the international soccer season. The Arsenal and FC Bayern match will mark the fifth time the tournament has come to the Los Angeles area, including a match in 2013 at Dodger Stadium and matches in 2015, 2016 and 2018 at Dignity Health Sports Park.
Matches are scheduled between July 16 and August 10 showcasing the world's elite soccer clubs, including teams from Premier League, Serie A, LaLiga, Bundesliga and Liga MX: Real Madrid; Manchester United; Tottenham Hotspur; Arsenal; AS Roma; Juventus; AC Milan; Inter; Atlético de Madrid; FC Bayern; Benfica; and Chivas de Guadalajara.
The tournament format is consistent with last year's ICC. Each team will play three matches, and the club with the most points at the end of the tournament will win the championship and receive the first trophy of the season. Each win in regulation will result in three points and a tie will go straight to a shootout; the winning team in a shootout will receive two points and the losing team will receive one.
The tournament will host U.S.-based matches in iconic locations in New York/New Jersey, Los Angeles, Washington D.C., Chicago, Charlotte, Santa Clara, Houston, Arlington, Kansas City and Boston. Cardiff, London, Stockholm, Singapore, and Shanghai will serve as hosts for the Europe and Asia matches.
2019 ICC SCHEDULE
Tuesday, July 16
AS Roma vs. Chivas de Guadalajara – Chicago, SeatGeek Stadium
Wednesday, July 17
Arsenal vs. FC Bayern – Los Angeles, Dignity Health Sports Park
Saturday, July 20
Manchester United vs. Inter – Singapore, National Stadium Arsenal vs. AS Roma – Charlotte, Bank of America Stadium
FC Bayern vs. Real Madrid – Houston, NRG Stadium
Benfica vs. Chivas de Guadalajara – Bay Area, Levi's® Stadium
Sunday, July 21
Juventus vs. Tottenham Hotspur – Singapore, National Stadium
Tuesday, July 23
Real Madrid vs. Arsenal – Washington, D.C, FedExField
FC Bayern vs. AC Milan – Kansas City, Arrowhead Stadium
Chivas de Guadalajara vs. Atlético de Madrid – Arlington, Texas, Globe Life Park in Arlington
Wednesday, July 24
Juventus vs. Inter – China, Location TBD
AS Roma vs. Benfica – Tri-State Area, Red Bull Arena
Thursday, July 25
Tottenham Hotspur vs. Manchester United – Shanghai, Hongkou Football Stadium
Friday, July 26
Real Madrid vs. Atlético de Madrid – Tri-State Area, MetLife Stadium
Sunday, July 28
AC Milan vs. Benfica – Boston, Gillette Stadium
Saturday, August 3
Manchester United vs. AC Milan – Cardiff, Principality Stadium
Sunday, August 4
Tottenham Hotspur vs. Inter – London, Tottenham Hotspur Stadium
Saturday, August 10
Atlético de Madrid vs. Juventus – Stockholm, Friends Arena
Relevent Sports Group (RSG) is the premiere soccer events and media business in North America and Asia. RSG operates the International Champions Cup, the summer's largest club tournament featuring the world's best teams in iconic venues. Regarded as one of the most influential privately-owned soccer companies internationally, RSG is focused on expanding its footprint, creating a year-round soccer platform including new properties, the ICC Women's and Futures tournament, Alianza de Futbol, the leading marketer and producer of Hispanic soccer programs in the U.S, and the first-of-its-kind joint venture with LaLiga to promote soccer in North America.
ABOUT INTERNATIONAL CHAMPIONS CUP
The International Champions Cup is the world's premier annual summer soccer tournament featuring the top international clubs playing across North America, Europe and Asia. The tournament brings world-class soccer to the masses by organizing marquee matches that attract record-breaking crowds – including the largest recorded attendance for a soccer match in the United States. Founded in 2013, the tournament's seventh installment will feature 12 of the top clubs in the world playing 18 matches in 16 cities across the globe, along with the second Women's International Champions Cup and second International Champions Cup Futures event featuring top youth players from around the world. Champions Meet Here.
ABOUT DIGNITY HEALTH SPORTS PARK
Dignity Health Sports Park is southern California's home of world-class competition and training facilities for amateur, Olympic, collegiate and professional athletes. Managed by AEG Facilities, the $150 million, privately financed facility was developed by AEG on a 125-acre site on the campus of California State University, Dominguez Hills (CSUDH) in Carson, California. Dignity Health Sports Park features an 8,000-seat tennis stadium, a 27,167-seat stadium for soccer, football and other athletic competitions and outdoor concerts; a 2,000-seat facility for track & field and a 2,450-seat indoor Velodrome – the VELO Sports Center – for track cycling. Dignity Health Sports Park is home to Major League Soccer's LA Galaxy, the five-time MLS Cup Champions. Dignity Health Sports Park is also home of the Los Angeles Chargers, United States Tennis Association's (USTA) High Performance Training Center, the national team training headquarters for the U.S. Soccer Federation (USSF) and EXOS, an international training center for elite and professional athletes. For additional information, please visit