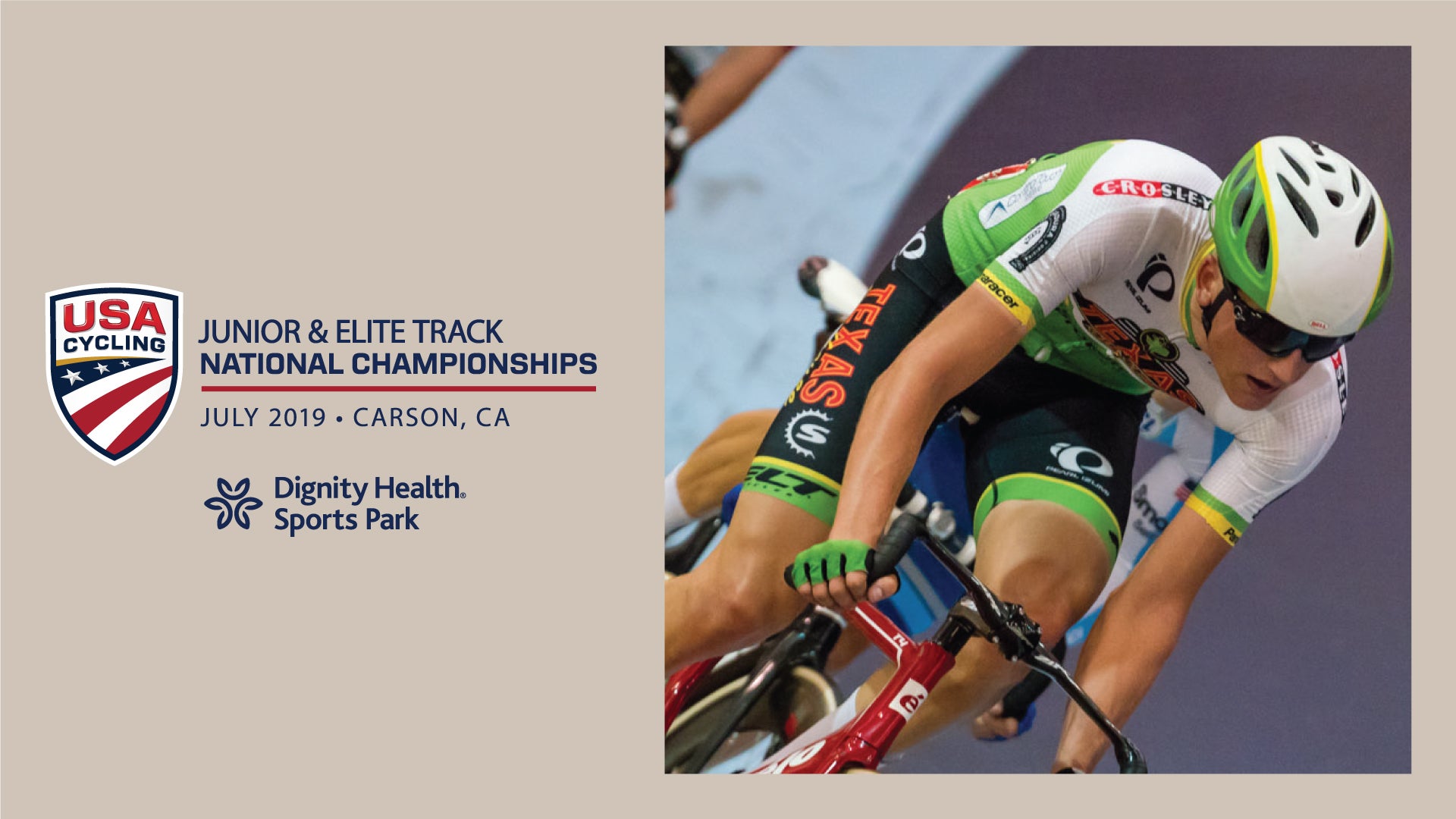 July

4

, 2019
Dignity Health Sports Park set to host USA Cycling Elite, Junior, and Para-cycling Track National Championships this weekend
Dignity Health Sports Park's VELO Sports Park will host the 2019 Cycling Elite Track National Championships this weekend beginning on the Fourth of July. Cyclists from all over the country will compete in the event, run by USA Cycling, for the chance to win stars-and-stripes jerseys, titles, and early consideration into the 2019-20 World Championships and 2020 Olympic talent pool. Presented by USA Cycling, the main event will be held from Thursday, July 4 – Sunday, July 7. Competitions have already begun at the junior and preliminary levels, but main events are scheduled to begin Thursday.
On Thursday, Friday, and Saturday, doors will open in the morning for events, as well as at 3:30 p.m. PT, while doors open for Sunday's events in the morning as well as at 2 p.m. PT. Each day features a number of men's and women's qualifying and finals events, with Sunday rounding out the competitions. The event will be live streamed during the evening sessions beginning Thursday July 4 through Sunday July 7 on USA Cycling's YouTube channel. In addition, viewers can follow the action on USA Cycling's @usacyclinglive Twitter account as well as the @usacycling Instagram account, and follow along with others posts by using the hashtag #TrackNats. Morning events are not streamed, but tickets to these events are free to the public each day. For events in the afternoon, spectators can purchase tickets on axs.com via Dignity Health Sports Park's website.
One of the largest, most important cycling competitions of the year, junior, elite, and para-cycling level cyclers come from around the country to compete. Hosted at VELO Sports Park, America's largest indoor velodrome, the event is sure to bring excitement to Dignity Health Sports Park, already the home of professional sports teams LA Galaxy and LA Chargers. Spectators hoping to catch some of the cycling events can also gain entry to any event by buying a ticket to LA Galaxy's Fourth of July match against Toronto FC, which they can redeem for free entry at the VELO Sports Center. For tickets to the LA Galaxy match, please go to www.lagalaxy.com/tickets.
WHAT: USA Cycling will hold their annual Elite-level Track Cycling Championships this Fourth of July weekend at Dignity Health Sports Park's VELO Sports Center, one of the premier indoor cycling arenas in the nation. One of the largest cycling events in the country, USA Cycling's Track Cycling Championships draws elite level cyclists from all over the nation to compete for a number of prizes, including early consideration into the 2019-20 World Championships and 2020 Olympic talent pool.
WHO: Cyclists from around the country will compete.
WHEN: Wednesday, July 3, 2019 – Sunday, July 7, 2019
WHERE: The Dignity Health Sports Park (formerly StubHub Center) VELO Sports Center. 18400 S Avalon Blvd, Carson, CA 90746
MORE: Tickets are available on Dignity Health Sports Park website via axs.com. Additionally, anyone having bought a to the July 4th LA Galaxy match against Toronto FC will be able to redeem this ticket for free entry to the cycling championships. Morning sessions and competitions are free to the public.