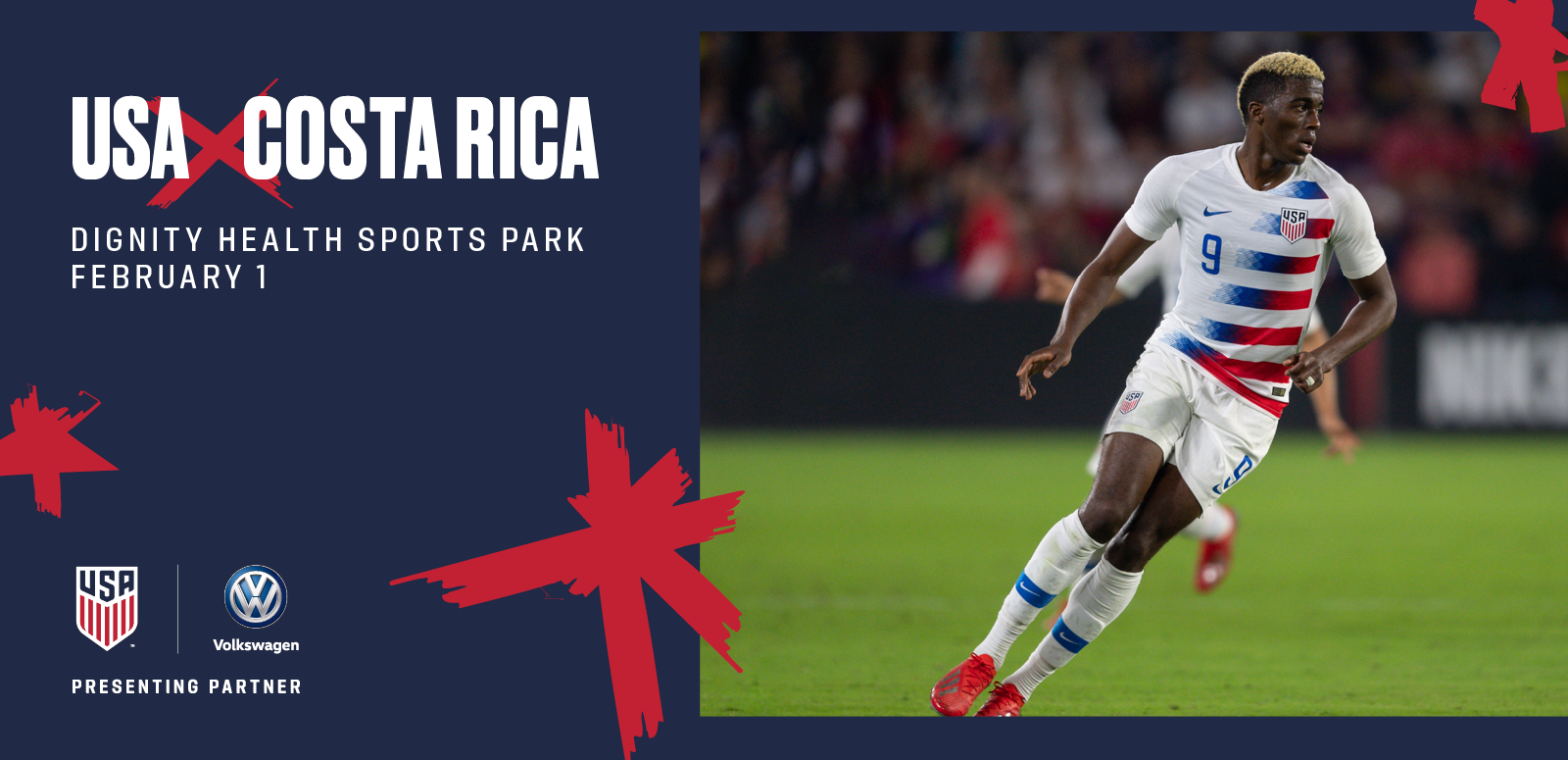 U.S. Men's National Team vs. Costa Rica
U.S. Men's National Team vs. Costa Rica
The U.S. Men's National Team will open its 2020 schedule with a friendly against Concacaf rival Costa Rica on Saturday, Feb. 1 at Dignity Health Sports Park. Coverage of the USA's first match of 2020 begins at 12:55 p.m. PT on ESPNews, UniMas and TUDN. Fans will be able to follow the match via Facebook, Twitter@USMNT and Instagram @USMNT.
The match will serve as an important preparation opportunity for the rest of the year as the USMNT will compete in the Concacaf Nations League semifinal in June and the start of 2022 FIFA World Cup qualifying, which kicks off in September.
"The chance to play against a likely World Cup qualifying opponent is fantastic," USMNT head coach Gregg Berhalter said. "As we continue to develop, it's important to challenge our group against a variety of different opponents. At the end of a January Camp, we want the players to have a chance to put all the work to the test."
TICKET INFORMATION
Tickets for the match go on sale to the public Friday, Jan. 3, at 10 a.m. PT at ussoccer.com and by phone at 1-888-929-7849. Groups of 20 or more can order directly at ussoccer.com.
Ultimate Fan Tickets (special VIP packages that include a premium ticket, a custom-made official U.S. National Team jersey with name and number, VIP access to the field before the game, and other unique benefits) are also available exclusively through ussoccer.com.
Coaches Circle and Presidents Circle members supporting the U.S. Soccer Development Fund can receive individual customer support and concierge services for their ticketing needs. Click here or contact [email protected] for more information.
As the official payment technology sponsor of U.S. Soccer, Visa® has made special arrangements for Visa cardholders to participate in an advance sale of tickets for this match prior to sale to the general public. This advance sale will take place from Thursday, Jan. 2 at 10 a.m. PT until Friday, Jan. 3 at 8 a.m. PT through the purchase link at ussoccer.com. As the preferred card of U.S. Soccer, Visa will be the only payment method accepted during the Visa
Additional Ticket Information

The U.S. Men's National Team will open its 2020 schedule with a friendly against Concacaf rival Costa Rica on Saturday, Feb. 1 at Dignity Health Sports Park. Coverage of the USA's first match of 2020 begins at 12:55 p.m. PT on ESPNews, UniMas and TUDN. Fans will be able to follow the match via Facebook, Twitter@USMNT and Instagram @USMNT.

The match will serve as an important preparation opportunity for the rest of the year as the USMNT will compete in the Concacaf Nations League semifinal in June and the start of 2022 FIFA World Cup qualifying, which kicks off in September.

"The chance to play against a likely World Cup qualifying opponent is fantastic," USMNT head coach Gregg Berhalter said. "As we continue to develop, it's important to challenge our group against a variety of different opponents. At the end of a January Camp, we want the players to have a chance to put all the work to the test."

TICKET INFORMATION

Tickets for the match go on sale to the public Friday, Jan. 3, at 10 a.m. PT at ussoccer.com and by phone at 1-888-929-7849. Groups of 20 or more can order directly at ussoccer.com.

Ultimate Fan Tickets (special VIP packages that include a premium ticket, a custom-made official U.S. National Team jersey with name and number, VIP access to the field before the game, and other unique benefits) are also available exclusively through ussoccer.com.

Coaches Circle and Presidents Circle members supporting the U.S. Soccer Development Fund can receive individual customer support and concierge services for their ticketing needs. Click here or contact [email protected] for more information.

As the official payment technology sponsor of U.S. Soccer, Visa® has made special arrangements for Visa cardholders to participate in an advance sale of tickets for this match prior to sale to the general public. This advance sale will take place from Thursday, Jan. 2 at 10 a.m. PT until Friday, Jan. 3 at 8 a.m. PT through the purchase link at ussoccer.com. As the preferred card of U.S. Soccer, Visa will be the only payment method accepted during the Visa