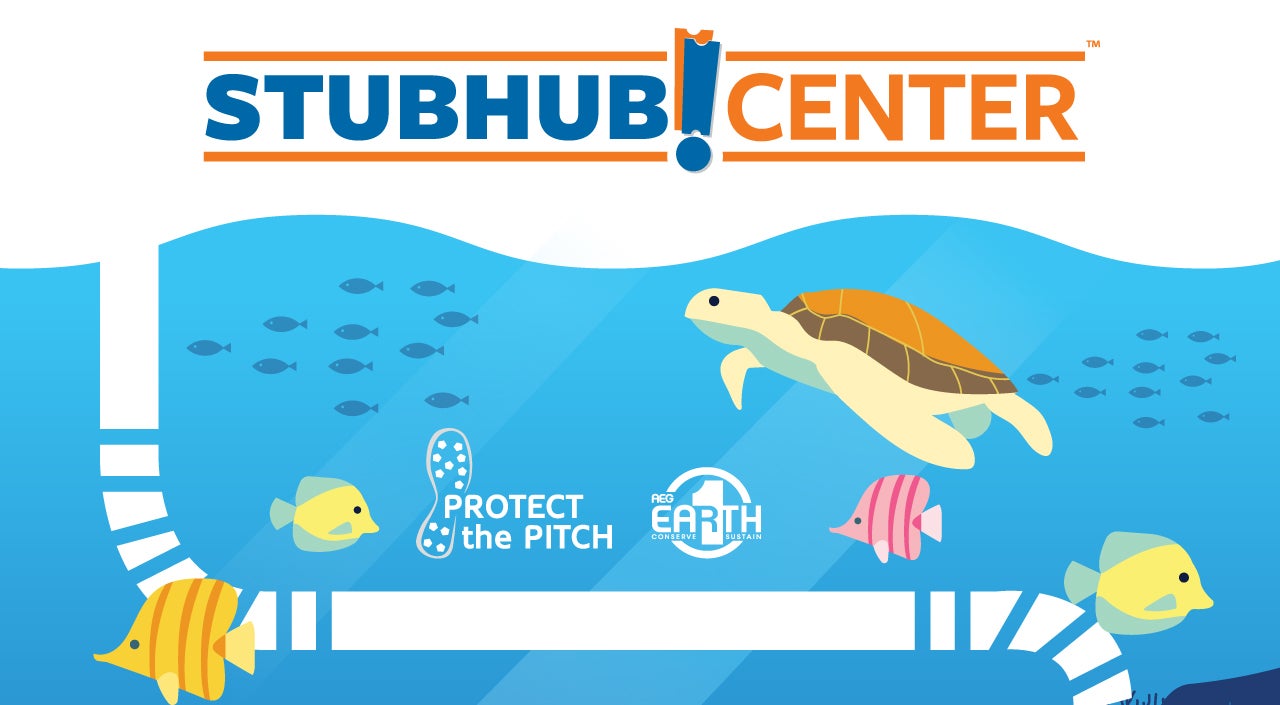 Aug

24

, 2018
StubHub Center commits to reduce plastic straw consumption
StubHub Center, in conjunction with renowned food and beverage provider Levy, will begin to offer paper straws upon request to minimize plastic straw pollution. The initiative, part of the Protect the Pitch sustainability program, begins Friday when the LA Galaxy host LAFC (7:30 p.m. PT; ESPN, ESPN Deportes) and will make StubHub Center the first soccer-specific stadium in Major League Soccer to serve drinks during games without a plastic straw.
On Friday, drinks at all locations in StubHub Center will not be automatically served with plastic straws, including concessions and premium seating areas. This policy also remains in effect for all Los Angeles Chargers NFL games at StubHub Center, beginning Saturday when they host the New Orleans Saints in an NFL preseason game (5 p.m. PT; CBS). Guests will be provided paper straws upon request, with a limited number of plastic straws still available to serve those with special needs. An estimated 250,000 plastic straws will be kept out of landfills annually with this change at StubHub Center.
"We are proud to continue to increase our sustainability efforts throughout StubHub Center in all of our gameday operations," said StubHub Center General Manager Katie Pandolfo. "Protecting our environment is paramount and reducing single-use plastic straws can greatly decrease plastic pollution in our oceans. We will continue to work to promote and improve sustainability initiatives in every facet of our venue."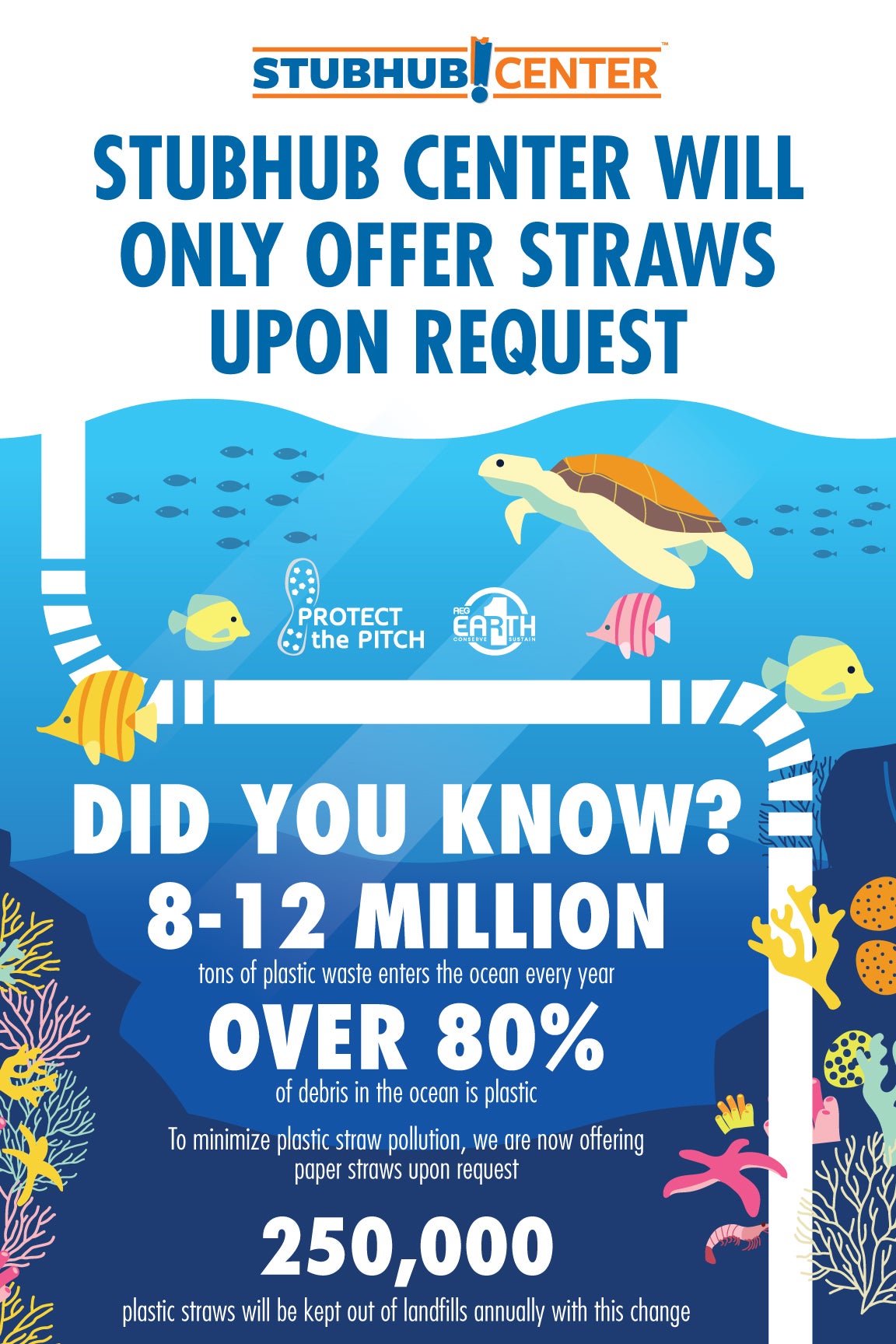 Plastic Straw Facts:
Every minute, the equivalent of one garbage truck of plastic is dumped into the ocean.
Each year, 8-12 million metric tons of plastic waste enters the ocean.
It is predicted that by 2050 there will more plastic in the ocean than fish.
Plastic straws are among the top 10 items found during beach cleanups around the world.
This plastic never disappears but instead breaks down into smaller plastics known as "microplastics."
StubHub Center and the LA Galaxy have launched numerous sustainability efforts to help reduce carbon footprint and become more sustainable through Protect the Pitch. Last year, StubHub Center unveiled an in-stadium greenhouse, chicken coop and beehives that cultivate various produce and food on site, which are made available at StubHub Center for athletes and staff.
A full outline of various Protect the Pitch sustainability initiatives can be found below.
StubHub Center/LA Galaxy Protect the Pitch Initiatives
In-House Resources
StubHub Center houses chickens in a dedicated chicken coop on site to produce eggs that are used on site for staff and players
StubHub Center is home to four separate beehives that produce over 800 pounds of honey per year
A greenhouse at StubHub Center produces numerous types of vegetables that provide food for tenants of StubHub Center
Energy
Motion sensors save energy by ensuring lights stay off when no one is using them
New and upgraded LED lights less 60 percent less energy than the lighting array it replaced
StubHub Center is the only soccer-specific MLS stadium to utilize LED stadium lights
StubHub Center uses 1-megawatt of Tesla batteries, allowing the venue to manage energy usage in a more responsible and environmentally friendly way
Water
The LA Galaxy irrigate fields at StubHub Center with roughly 50% recycled water, saving about 35 Olympic swimming pools of drinking water each year
StubHub Center uses waterless urinals, low-flow toilets, and faucet aerators to reduce water use in our restrooms
LA Galaxy train employees to help minimize water use when cleaning up the stadium
Waste and Recycling
LA Galaxy capture bottles, cans, cups, cardboard, paper, and more through our recycling program
Our composting program sends grass clippings from our fields to a local nursery and brings them back on-site as mulch
By purchasing recycled-content paper products, we're helping make sure the materials we recycle go to good use
Have irrigated fields and landscaping with recycled water since opening in 2003
Community
LA Galaxy and StubHub Center employees volunteer to help keep our community healthy through numerous initiatives, including planting trees and cleaning up beaches.
The LA Galaxy and StubHub Center partner with local nonprofits to organize annual events for Earth Hour, Earth Day, and America Recycles Da
Transportation
StubHub Center features on-site bike racks to make it easier for Galaxy fans to bike to the game
LA Galaxy and StubHub Center provide the Galaxy Express service to offer fans free non-stop shuttles to and from StubHub Center for every LA Galaxy home match
The Galaxy Express can be utilized in two separate locations and operate approximately every 10 minutes