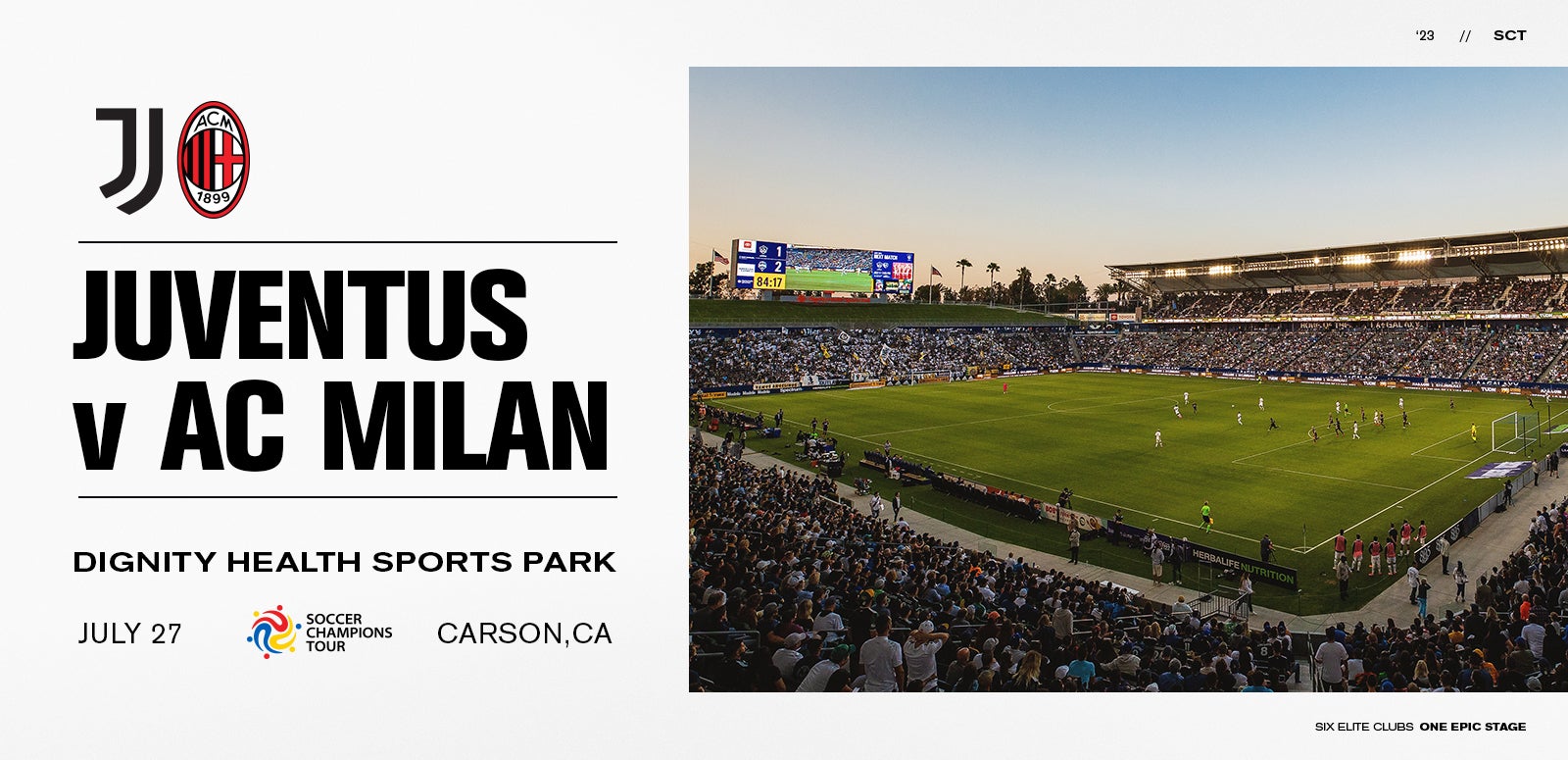 May

11

, 2023
Juventus and AC Milan Head to Los Angeles Area for Soccer Champions Tour Match at Dignity Health Sports Park
LOS ANGELES (Friday, May 12, 2023) – Soccer Champions Tour announced today that two of the most iconic Italian soccer clubs, Juventus and AC Milan, are set to face off at Dignity Health Sports Park on Thursday, July 27 as part of a new series of summer international soccer matches.
This match is part of the 2023 Soccer Champions Tour, a series of games to be played this summer in major markets across the United States featuring the world's most iconic soccer clubs. Spain's Real Madrid and FC Barcelona, Italy's Juventus and AC Milan and England's Arsenal and Manchester United will compete in eight matches between Saturday, July 22, and Wednesday, August 2, 2023.
The 2023 Soccer Champions Tour is the first time these six clubs, which hold among them 31 European trophies, have participated together in a U.S. series. The eight fixtures will take place in host market stadiums in Dallas, Houston, Los Angeles, Orlando, and San Francisco.
Exclusive presale tickets will be available starting Tuesday, May 16, with the general on-sale ticket access beginning on Friday, May 19. For access to the presale, all fans are invited to sign up at www.SoccerChampionsTour.com. All individual game and venue-specific information is also available at the tour website, and fans can follow @TheSCTour on Facebook, Instagram, TikTok and Twitter for updates.
The Clubs
AC Milan
AC Milan was founded in 1899 and is one of the most iconic and successful clubs in football history. With an internationally recognized brand off the pitch, AC Milan is synonymous with style and elegance, embodied in the Rossoneri's red and black jersey. On the pitch, AC Milan has the most international trophies of any Italian club with seven UEFA Champions League titles and five European Super Cups. Also included in their trophy cabinet are 19 league titles (the latest of which was won at the end of last season). The club's star players include Portuguese forward Rafael Leão, French left-back Theo Hernandez, Italian midfielder Sandro Tonali and Canadian-born center-back Fikayo Tomori.
Juventus
Founded in 1897 in Turin, Italy, Juventus is one of Italy's oldest and most decorated soccer teams with more Italian league championships than any other team. Also known as Juve, the club competes in the Serie A, the top tier of the Italian soccer leagues, and is the first European club to win all three major UEFA competitions. The club's current roster includes Brazilian defender Danilo, French midfielder Paul Pogba and Italian forward Federico Chiesa.
Soccer Champions Tour was created by a newly formed company of global investment firm Sixth Street to support the continued global growth of top-tier sports franchises by organizing high-profile, competitive events for the millions of fans that live outside the domestic markets of the biggest clubs.
Soccer Champions Tour is also working closely with Legends to bring these marquee matchups and elevated in-game experiences to local fans of the game and is being produced in partnership with AEG, the world's leading sports and live entertainment company.
A full match schedule for the 2023 Soccer Champions Tour can be found at www.SoccerChampionsTour.com.
About Dignity Health Sports Park
Dignity Health Sports Park is southern California's home of world-class competition and training facilities for amateur, Olympic, collegiate and professional athletes. Managed by AEG Facilities, the $150 million, privately financed facility was developed by AEG on a 125-acre site on the campus of California State University, Dominguez Hills (CSUDH) in Carson, California. Dignity Health Sports Park features an 8,000-seat tennis stadium, a 25,174-seat stadium for soccer, football and other athletic competitions and outdoor concerts; a 2,000-seat facility for track & field and a 2,450-seat indoor Velodrome – the VELO Sports Center – for track cycling. Dignity Health Sports Park is home to Major League Soccer's LA Galaxy, the five-time MLS Cup Champions. Dignity Health Sports Park is also home of the United States Tennis Association's (USTA) High Performance Training Center and the national team training headquarters for the U.S. Soccer Federation (USSF). Additionally, Dignity Health Sports Park is home to Galaxy Park, a newly imagined complex on the campus of the facility that features five 5v5 soccer fields, three futsal courts, eight Pickleball courts, four Padel courts, and is home to a number of other recreational activities. For additional information, please visit http://www.dignityhealthsportspark.com.
About Sixth Street
Sixth Street is a leading global investment firm with approximately $65 billion in assets under management and committed capital. The firm's experience in global sports includes partnerships and investments with Real Madrid, FC Barcelona, the San Antonio Spurs, and the National Women's Soccer League expansion club coming to the Bay Area in 2024. Sixth Street is also the majority investor in Legends in partnership with the Dallas Cowboys and New York Yankees. Sixth Street uses its long-term flexible capital, data-enabled capabilities, and One Team culture to develop themes and offer solutions to companies across all stages of growth. Founded in 2009, Sixth Street has more than 500 team members including over 180 investment professionals operating around the world. For more information, visit www.sixthstreet.com, or follow Sixth Street on LinkedIn, Twitter, and Instagram.
About Legends
Founded in 2008, Legends is a premium experiences company with six divisions operating worldwide – Global Planning, Global Sales, Global Partnerships, Hospitality, Global Merchandise, and Global Technology Solutions – offering clients and partners a 360-degree data and analytics fueled service solution platform to elevate their brand and execute their vision. Currently, Legends works with marquee clients across business verticals including professional sports; collegiate; attractions; entertainment; and conventions and leisure. We are the industry leaders in designing, planning, and realizing exceptional experiences in sports and entertainment. For more information, visit www.Legends.net and follow @TheLegendsWay on Twitter and Instagram.
About AEG
Headquartered in Los Angeles, California, AEG is the world's leading sports and live entertainment company. The company operates in the following business segments: Facilities, which through its affiliation with ASM Global, owns, manages or consults with more than 300 preeminent arenas, stadiums, convention centers and performing arts venues around the world; Music through AEG Presents, which is dedicated to all aspects of live contemporary music performances, including producing and promoting global and regional concert tours, music and special events and world-renowned festivals such as the Coachella Valley Music and Arts Festival; Real Estate, which develops world-class venues, as well as major sports and entertainment districts like Crypto.com Arena, L.A. LIVE, Mercedes Platz in Berlin, Mercedes-Benz Arena in Shanghai and The O2 in London; Sports, as the world's largest operator of high-profile sporting events and sports franchises including the LA Kings, LA Galaxy and Eisbären Berlin; Ticketing through AXS, a global platform delivering ticketing solutions for venues of all sizes, sports franchises and event organizers; and Global Partnerships, which oversees worldwide sales and servicing of sponsorships including naming rights, premium seating and other strategic partnerships. Through its worldwide network of venues, portfolio of powerful sports and music brands and its integrated entertainment districts, AEG entertains more than 160 million guests annually. More information about AEG can be found at www.aegworldwide.com.