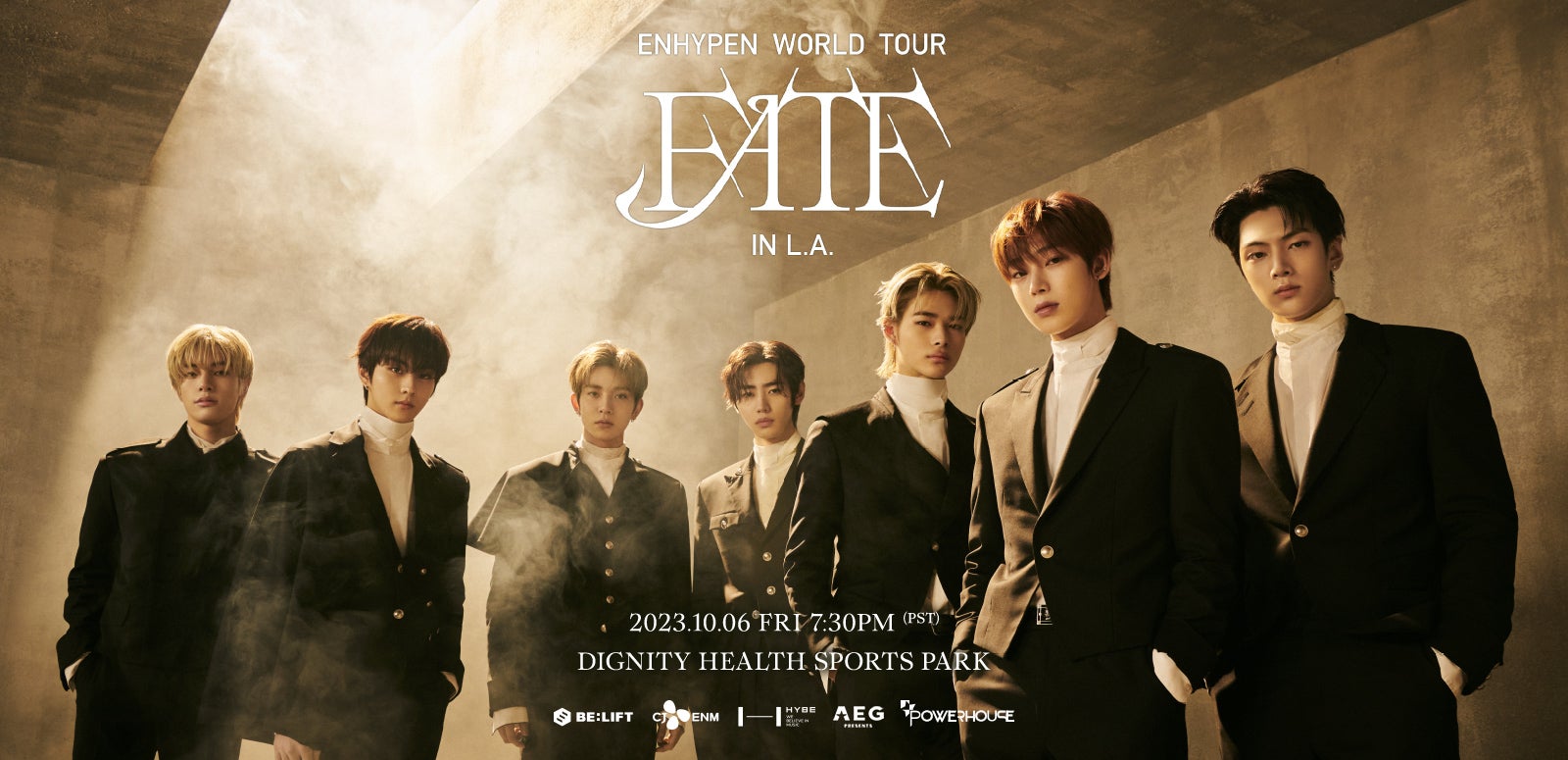 July

7

, 2023
ENHYPEN ANNOUNCED DATES & VENUES FOR U.S. LEG OF 'FATE' WORLD TOUR
K-pop powerhouse ENHYPEN are hosting their second world tour ENHYPEN WORLD TOUR 'FATE' (hereinafter 'FATE'). 'FATE' will kick off at KSPO Dome in Seoul on July 29 with two consecutive dates, followed by a Japanese dome tour in Kyocera Dome Osaka on September 2 & 3, and Tokyo Dome on September 13 & 14. The U.S. leg begins at Dignity Health Sports Park in Los Angeles on October 6, making stops in Glendale, AZ, Houston, Dallas, and Newark, NJ before wrapping up at Chicago's United Center on October 22.
TICKETS: Tickets go on sale on AXS.com and Ticketmaster.com at 3 PM local time on Wednesday, July 19.
PRESALE: Presale tickets will be available for purchase via ENGENE MEMBER PRESALE for ENGENE MEMBERSHIP holders who have registered in advance. Application for ENGENE MEMBER PRESALE is open HERE for ENGENE MEMBERSHIP holders from Thursday, July 6 8 PM PT / 10 PM CT / 11 PM ET through Tuesday, July 11 5 PM PT / 7 PM CT / 8 PM ET. Click HERE for more information on how to apply for the ENGENE MEMBER PRESALE.
TOUR DATES:
Sat July 29 & Sun July 30 – Seoul, Korea - KSPO Dome***
Sat Sept 2 & Sun Sept 3 – Osaka, Japan – Kyocera Dome Osaka***
Wed Sept 13 & Thur Sept 14 – Tokyo, Japan – Tokyo Dome***
Fri Oct 6 – Los Angeles, CA – Dignity Health Sports Park (AXS)
Tue Oct 10 – Glendale, AZ – Desert Diamond Arena (AXS)
Fri Oct 13 – Houston, TX – Toyota Center (AXS)
Sat Oct 14 – Dallas, TX – American Airlines Center (Ticketmaster)
Wed Oct 18 & Thur Oct 19 – Newark, NJ – Prudential Center (Ticketmaster)
Sun Oct 22 – Chicago, IL – United Center (Ticketmaster)
***Not An AEG Presents Show Date
ENHYPEN released their 4th Mini Album DARK BLOOD on May 22. As more than 1.3M copies were sold within a week of release, the album became the powerhouse band's third million-seller album following DIMENSION : DILEMMA (October 2021) and MANIFESTO : DAY 1 (July 2022). Watch the recently released music video for "Sacrifice (Eat Me Up)" from the album HERE.
About ENHYPEN:
ENHYPEN is the first boyband created by BELIFT LAB, consisting of members JUNGWON, HEESEUNG, JAY, JAKE, SUNGHOON, SUNOO, and NI-KI. Inspired by the 'hyphen(-)' that connects one word to another, ENHYPEN means that seven different boys connect to discover one another and grow together. Upon their official debut in November 2020, ENHYPEN broke out into the global K-pop scene and began smashing from day one with 1st Mini Album BORDER : DAY ONE achieving the biggest first week sales for a single album among K-pop groups to debut the same year. Less than three years later, the powerhouse of K-pop came to possess three "Million-Seller'' albums with 1st Studio Album DIMENSION : DILEMMA (released in October 2021), 3rd Mini Album MANIFESTO : DAY 1 (July 2022), and 4th Mini Album DARK BLOOD (released on May 2023), which debuted on the Billboard 200 at No. 11, No. 6, and No. 4 respectively. In September 2022, the band embarked on their first world tour 'MANIFESTO', headlining arenas in 12 cities across the globe for 22 shows. Armed with authentic stories in their music and multi-talented presence on stage, ENHYPEN continue to capture the attention of viewers worldwide while performing on global shows like MTV Fresh Out Live and The Kelly Clarkson Show.
About BELIFT LAB:
BELIFT LAB is a media company established in March 2019 as a joint venture between HYBE Corp. and CJ ENM. BELIFT LAB aims to cement K-pop as a main-stream genre by fostering idol groups targeting the global market, and to reinvent and innovate the entertainment industry. BELIFT LAB's first creation, ENHYPEN, a new global boyband, made their debut in November, 2020.