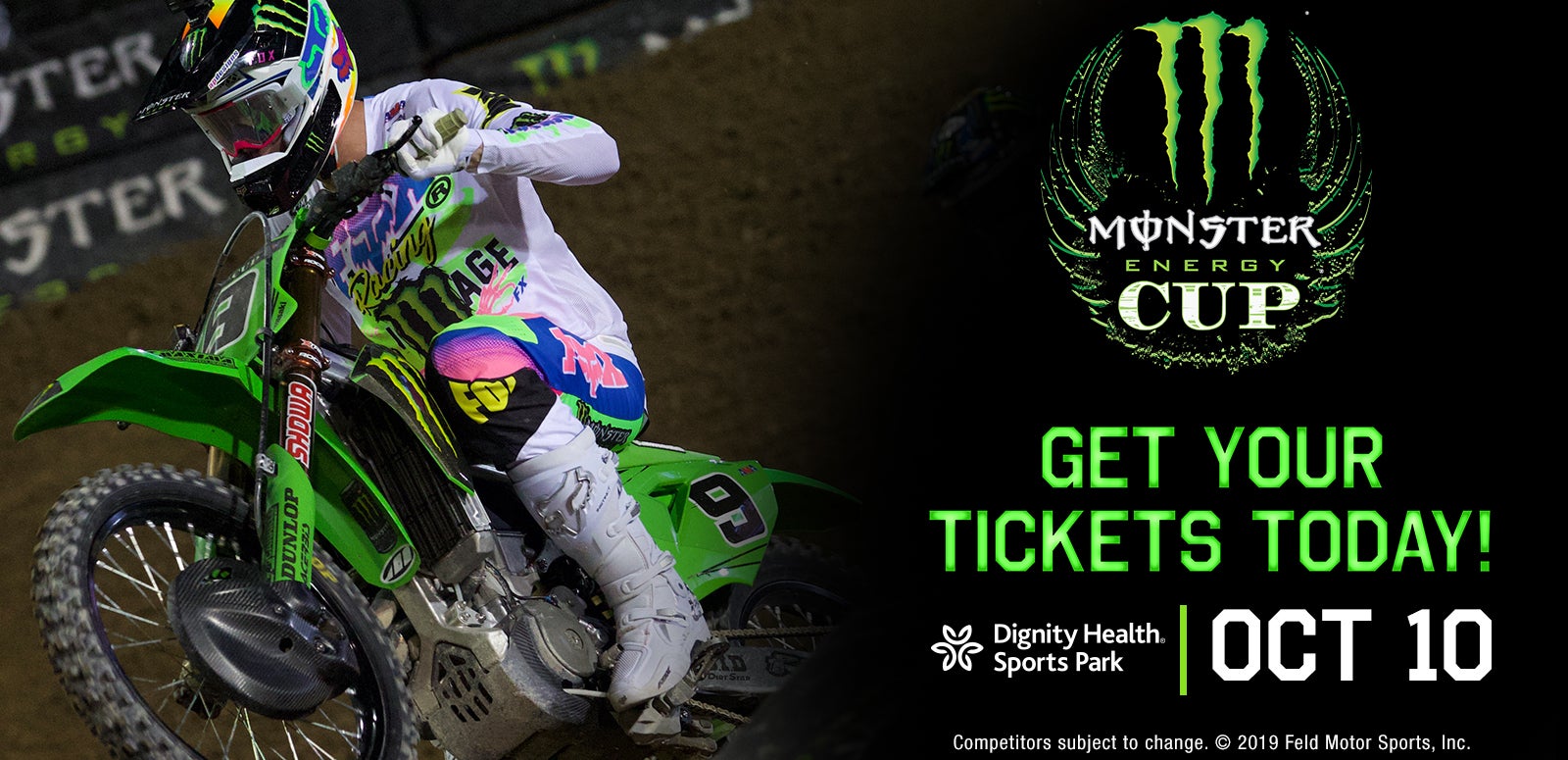 Feb

11

, 2020
Dignity Health Sports Park to host Monster Energy Cup
For the first time ever, the Monster Energy Cup, Supercross' ultimate Million Dollar All-Star Race, will be moving from Las Vegas which has hosted the event since its inception in 2011, to debut the 10th annual race in Southern California inside Dignity Health Sports Park in Carson, CA on Saturday, Oct. 10, 2020. Tickets are on sale now.
The Monster Energy Cup is an annual showcase of the world's top Supercross athletes in a one-night-only head-to-head battle for the coveted Monster Energy Cup trophy and the shot at winning $1 Million. The Monster Energy Cup challenges racers in their fight for victory with three, 10-Lap Main Events on a custom-designed track, inspired by five-time Monster Energy Supercross Champion Ricky Carmichael. The Monster Energy Cup posts a $250,000 purse, with the winner guaranteed to walk away with a $100,000 check, and any rider who wins all three Main Events will take home $1 Million.
Having hosted several X Games events previously at the Digital Health Sports Park complex (formerly StubHub Center) setting the stage for the next great action sports event at the venue, Monster Energy Cup will be turning the home field of the LA Galaxy, Major League Soccer's five-time champions, into a man-made dirt battleground with over 26 million pounds of dirt covering the soccer field for this epic all-day racing event. The Monster Energy Cup is seen by many racers, teams and fans as the event that kicks off the next Monster Energy AMA Supercross, an FIM World Championship, season as it allows teams to try new bikes, riders and bike set ups in a high stress environment, yet throws enough unique elements to challenge racers and machines in new ways.
Fans can enjoy a full day of entertainment at the Monster Energy Cup FanFest from 12 PM – 6 PM, including athlete autograph sessions, live music and additional interactive experiences. FanFest passes are $20 each and can be purchased in advance through AXS.com or fans can get free access by recycling an empty can of Monster Energy. At the same time, inside the stadium, riders will be sharpening their skills during practice and qualifying for their starting gate position.
WHEN: Saturday, October 19, 2020
Gates/FanFest open at 12:00 PM – 6:00 PM
Opening Ceremonies at 6:30 PM
Racing starts at 7:00 PM
WHERE: Dignity Health Sports Park – 18400 S. Avalon Blvd., Carson, CA 90746
TICKETS: Ticket prices start at $30
FanFest passes priced at $20 each
Tickets are now available to purchase online at AXS.com; charge by phone at 888-9AXS-TIX or in-person at the venue Box Office.
*prices subject to change; additional venue/ticketing fees may apply