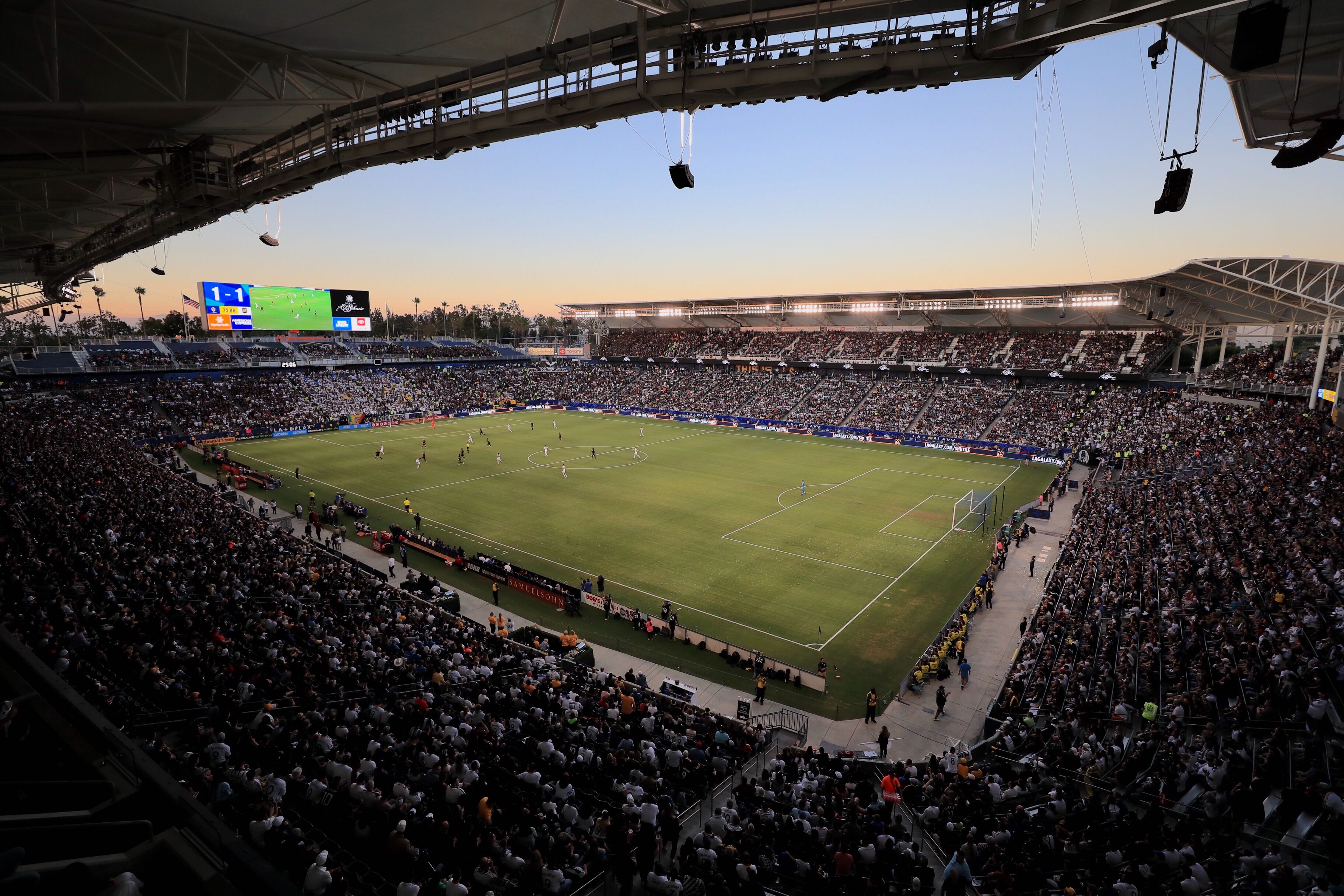 July

23

, 2019
Dignity Health Sports Park completes record-setting week featuring 15 events and eight major sporting events
Dignity Health Sports Park has completed a record-setting week in Los Angeles, as the facility hosted eight major sporting events – including five sold-out professional soccer matches – while welcoming over 100,000 guests to the facility and accommodating over 350 professional athletes during a nine-day span. In addition to the eight public sporting events, the AEG facility hosted various other events on campus during each day of the week, ranging from commercial shoots to community clinics to receptions in the American Express Stadium Club.
"This was an incredible week, one that showcased the diverse capabilities of our venue to over 100,000 fans in Southern California and even more throughout the world," said Dignity Health Sports Park General Manager Katie Pandolfo. "We are very proud to be a part of AEG, who continually provides us with the resources to be in a position that allows us to host eight marquee events during a single week. We pride ourselves on creating outstanding fan experiences and Dignity Health Sports Park was the center of the sporting world last week."
Dignity Health Sports Park hosted six major soccer competitions: Major League Soccer contests featuring LA Galaxy vs. San Jose Earthquakes and LA Galaxy vs. LAFC, Mexican Liga MX matches featuring Club America vs. Tigres UANL (Campeon de Campeones) and Club Necaxa vs. Cruz Acul (Súpercopa MX), in addition to an International Champions Cup match between two marquee European sides in Arsenal and Bayern Munich before rounding off the week with a USL contest between LA Galaxy II and Reno 1898 FC. The venue also hosted open training sessions for Bayern Munich and Arsenal as well as a Golden Boy Boxing card featuring WBC Super Bantamweight World Title holder Rey Vargas in a fight against Tomoki Kameda live on DAZN.
"Dignity Health Sports Park has been an incredible host since we brought the Campeón de Campeones and SúperCopa MX doubleheader to Los Angeles in 2016 in collaboration with Liga MX," said Marco Liceaga, Senior Vice President of Sports Marketing and Promotions at Univision. "The venue admirably accommodated this year's sellout crowd of more than 27,000, a turnout that demonstrates the passion for soccer in Southern California."
"The match between Arsenal and FC Bayern at Dignity Health Sports Park is exactly what the International Champions Cup is all about," said RSG Executive Chairman Charlie Stillitano. "The energy in the crowd was electric, the players competed at an extremely high level, and the game came down to the wire."
"It's always great to bring Golden Boy boxing back to the Dignity Health Sports Park," said Oscar De La Hoya, Chairman and CEO of Golden Boy. "We have had an amazing partnership for many years ever since I fought Steve Forbes there in 2008. The atmosphere is always electric, and there's something about this place that brings out the warrior of each boxer who fights there. July 13 was a great event featuring many Southern California prospects, contenders, and a world title fight. We look forward to more events with the Dignity Health Sports Park as they continue breaking records."
The eight separate events generated attention across Los Angeles and throughout the world, with highlights and moments being broadcast in numerous countries across major networks like Univision, Univision Deportes Network and ESPN. The week culminated with a hat-trick performance from LA Galaxy forward Zlatan Ibrahimovic to give the LA Galaxy a 3-2 win over LAFC Friday night in Los Angeles live on ESPN.
RECORD-SETTING WEEK AT DIGNITY HEALTH SPORTS PARK

DATE

EVENT

ATTENDANCE

Friday, July 12

MLS Regular Season:

LA Galaxy vs. San Jose Earthquakes

22,508

Saturday, July 13

Golden Boy Boxing:

Rey Vargas vs. Tomoki Kameda

Sunday

4,340

Sunday, July 14

Campeon de Campeones:

Club America vs. Tigres UANL

SúperCopa MX:

Club Necaxa and Cruz Azul

27,800

Tuesday, July 16

ICC open training:

Bayern Munich and Arsenal

2,000+

Wednesday, July 17

International Champions Cup:

Arsenal vs. Bayern Munich

26,704

Friday, July 19

MLS Regular Season:

LA Galaxy vs. LAFC

27,088

Saturday, July 20

USL Regular Season:

LA Galaxy II vs. Reno 1896 FC

535