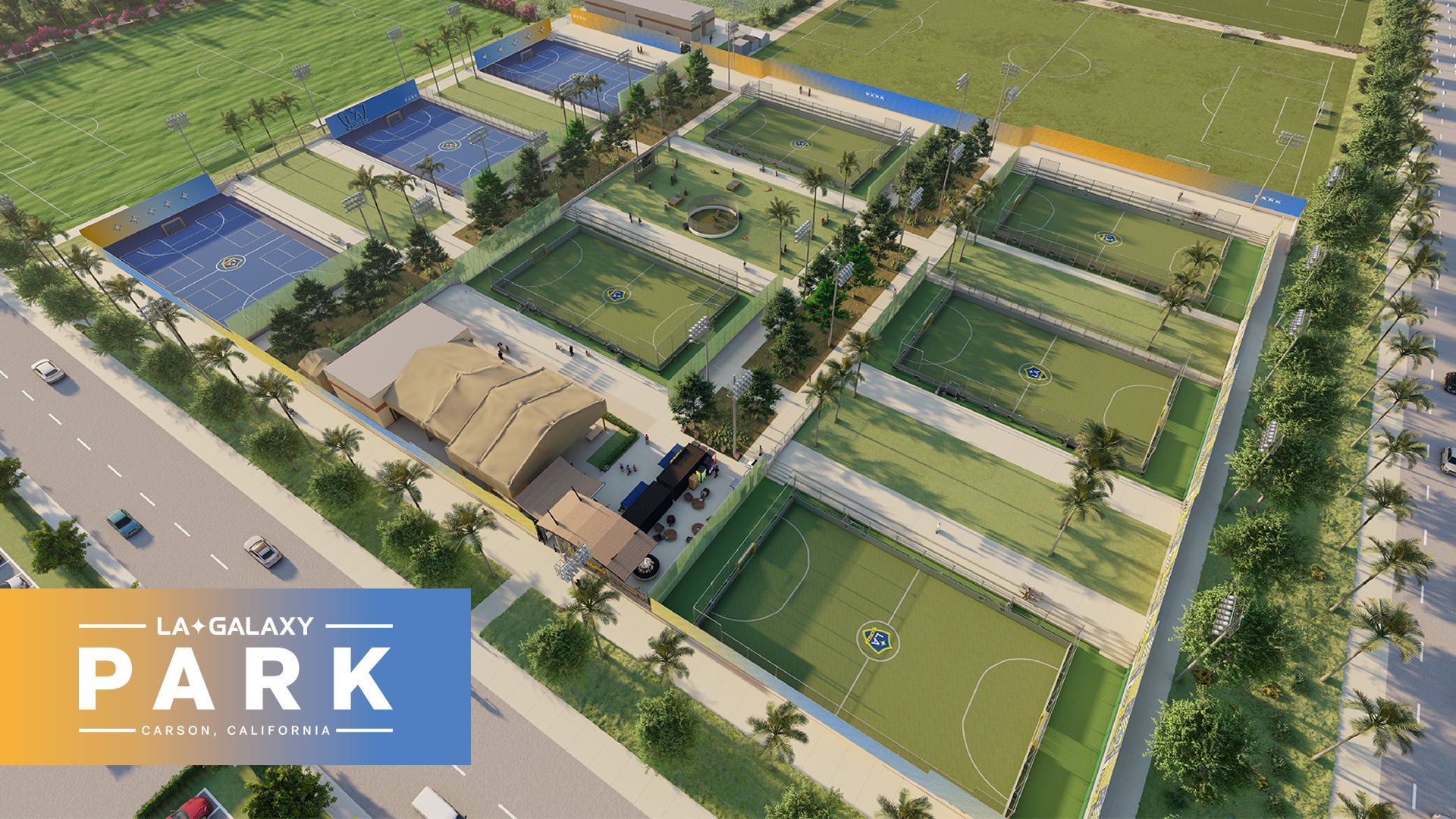 Feb

22

, 2023
Dignity Health Sports Park and LA Galaxy to Launch Galaxy Park in March 2023 including Futsal Courts, 5v5 Soccer Fields, Pickleball Courts and Padel Courts
LOS ANGELES (Wednesday, Feb. 22, 2023) – Dignity Health Sports Park and the LA Galaxy today announced the creation of Galaxy Park, a newly imagined complex on the campus of Dignity Health Sports Park. Scheduled to open in March 2023, Galaxy Park will include five 5v5 soccer fields, three futsal courts, eight Pickleball courts, four Padel courts, and be home to a number of other recreational activities. All of the new recreational options will have public availability. Several of the activities will be open to the public beginning in mid-March with the official launch of Galaxy Park taking place in June to coincide with Dignity Health Sports Park's the 20th anniversary celebration.
"We are thrilled to announce the launch of Galaxy Park as we celebrate Dignity Health Sports Park's 20th anniversary in 2023," said Dignity Health Sports Park General Manager Katie Pandolfo. "With the creation of Galaxy Park, Dignity Health Sports Park and the LA Galaxy are furthering their commitment to create opportunities for youth and adults to play sports and live an active lifestyle."
The LA Galaxy staff will offer a range of youth programs including Galaxy Juniors, camps, clinics and skills training for youth players and all levels of ability to play soccer in a challenging and exciting environment. Programming will also include youth and adult leagues and tournaments.
"The LA Galaxy are proud and excited for the launch of Galaxy Park," said LA Galaxy President Chris Klein. "As a club, we are committed to the advancement of the sport at all levels and want to continue providing a platform for everyone to explore and grow the game of soccer in our communities. As we continue to invest in our fan experience, we see Galaxy Park as a great space for our fans to utilize on both gamedays and outside of LA Galaxy home matches."
Southern California-based AGIA, LLC (known as Taktika Padel and Pickleball), operators of all Padel programming and activities at the award-winning Barnes Tennis Center in San Diego have been selected to manage the various courts including coordinating and staffing for private and group lessons, clinics and tournaments.
"We are thrilled to partner and join forces with AEG and Galaxy Park to develop and operate this one-of-a-kind venue," said Gabriel Perez Krieb, AGIA, LLC (Taktika Padel and Pickleball). "This partnership is key to our mission of introducing and growing Padel, one of the fastest growing sports in the world, in California and the United States. With over 25 million people playing Padel worldwide, and with the rich cultural diversity that Carson and the greater Los Angeles contain, Padel is the perfect sport to bring to the community. We believe our experience and expertise will develop a strong and diverse community through Padel and Pickleball that is reflective of the state-of-the-art facility and will quickly be known as one of the only premier all-racquet sport facilities in Los Angeles."
Galaxy Park will serve as an extension of the LA Galaxy Sports Complex and the Kinecta Soccer Center, powered by the LA Galaxy, in Torrance, Calif. Located across the street from Kinecta Soccer Center, the 6.2-acre LA Galaxy Sports Complex features high-quality synthetic turf and energy-efficient sports lighting for year-round soccer, football, lacrosse, rugby and other sport playability. With two turf fields and five Futsal fields, the Kinecta Soccer Center, powered by the LA Galaxy, offers youth and adult leagues, pick-up games, open field time, field rentals, tournaments, camps & clinics, birthday parties and other sport related sessions including volleyball courts for club or private use.
Through Galaxy Park, the LA Galaxy Sports Complex and the Kinecta Soccer Center, powered by the LA Galaxy, the LA Galaxy and Dignity Health Sports Park reaffirm their commitment to the greater Los Angeles area communities by promoting the sport to players of all ages and skill levels in a safe and organized environment, striving to foster sportsmanship and physical fitness while maintaining a fun, enjoyable and exciting atmosphere.
Naming entitlements, comprehensive sponsorships and commercial partnerships for all aspects of the new development are being handled by AEG Global Partnerships.
"We are beyond excited about the opening of Galaxy Park which will bring fantastic opportunities for new and current partners to engage with the thousands of people in our community who will enjoy and benefit from this collection of venues," said Josh Veilleux, Sr. Vice President, AEG Global Partnerships. "This new park will allow for a variety of entitlement areas, product integration, employee outings, community events and so much more for partners to be ingrained into in unique and impactful ways. We look forward showcasing this substantial enhancement to Dignity Health Sports Park in the coming months."
Additional details about official unveiling and ribbon cutting ceremonies of Galaxy Park and other programming to celebrate the 20th anniversary of Dignity Health Sports Park, located on the campus of California State University, Dominguez Hills, will be announced at a later date.
More information including public reservations booking opportunities can be found at Galaxy Sports Parks new official website at: http://galaxypark.lagalaxyprog.wpengine.com/