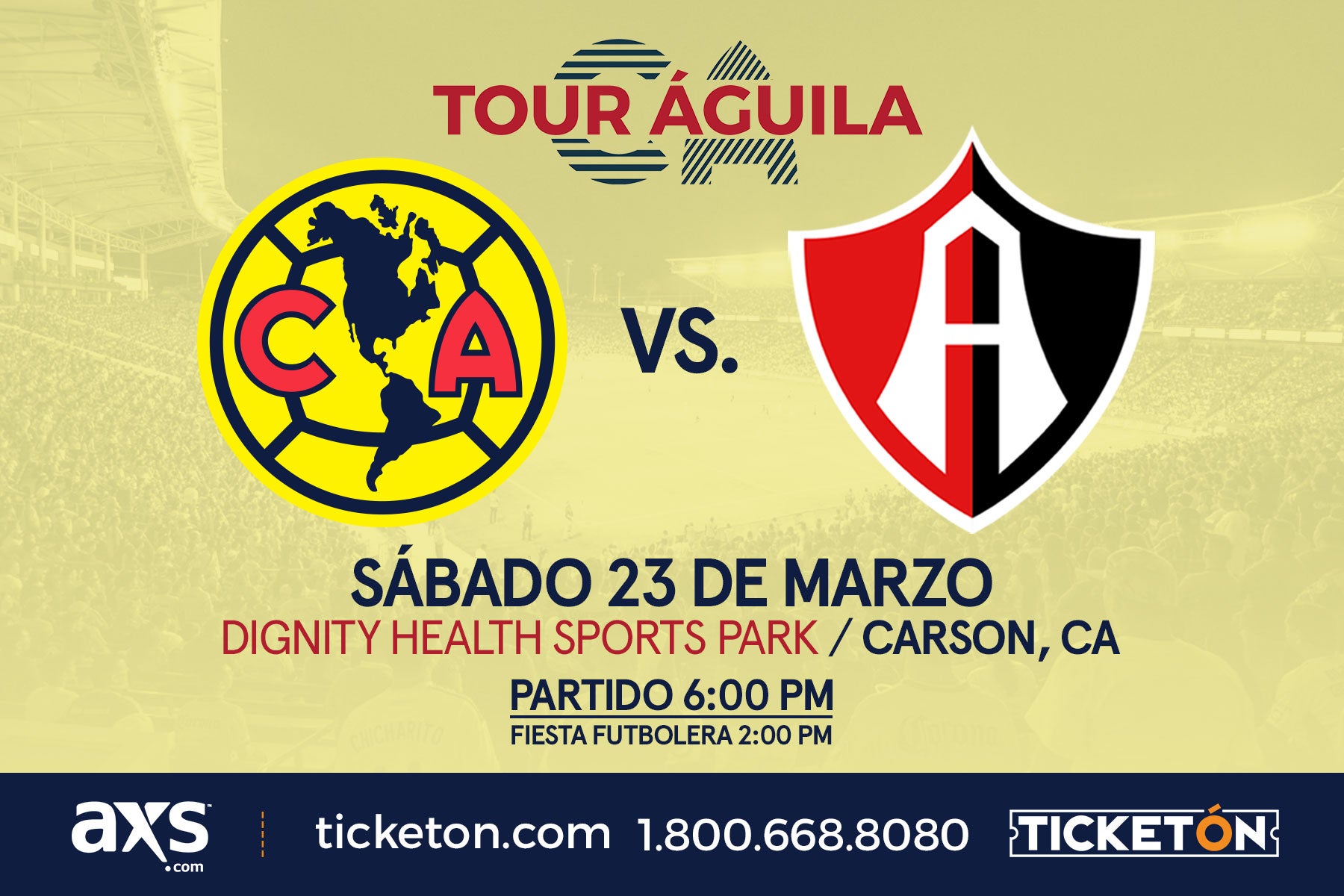 Feb

6

, 2019
El Tour Águila Regressa a Dignity Health Sports Park
PRIMETIME Sports y el Club América anunciaron oficialmente el primer partido del Tour Águila 2019, que será disputado en Carson, California. Esta es la segunda ocasión en la que el tour se lleva a cabo en esta ciudad. Para este partido las Águilas del América llegarán como los campeones actuales de la Liga MX para medirse a los rojinegros del Atlas. Ambos clubes se encuentran entre los candidatos más fuertes del actual Torneo Clausura 2019.
El partido está programado para el sábado 23 de marzo en el Dignity Health Sports Park (anteriormente StubHub Center), casa del LA Galaxy de la MLS. Los aficionados podrán disfrutar de la Fiesta Futbolera en las inmediaciones del estadio antes del partido donde se contará con música en vivo, comida, mascota del equipo, trofeos de campeonato y firma de autógrafos de grandes leyendas.
La preventa de boletos para aficionados con abono del LA Galaxy estará disponible el miércoles, 6 de febrero desde las 12:00 p.m. PST. Los boletos saldrán a la venta al público en general el viernes 8 de febrero a las 10:00 a.m. PST a partir de $35 dólares y estarán disponibles en axs.com, ticketon.com, en la taquilla del estadio o por teléfono al 1-800-668-8080; así como en exclusivos puntos de venta.
Todo miembro de la prensa ya acreditado por el LA Galaxy podrá hacer uso de dicha acreditación para el partido. Cualquier duda relacionada con medios y para solicitar una acreditación, favor de dirigirse por medio de un correo electrónico a [email protected].
SOBRE EL ESTADIO DIGNITY HEALTH SPORTS PARK
Dignity Health Sports Park is southern California's home of world-class competition and training facilities for amateur, Olympic, collegiate and professional athletes. Managed by AEG Facilities, the $150 million, privately financed facility was developed by AEG on a 125-acre site on the campus of California State University, Dominguez Hills (CSUDH) in Carson, California. Dignity Health Sports Park features an 8,000-seat tennis stadium, a 27,167-seat stadium for soccer, football and other athletic competitions and outdoor concerts; a 2,000-seat facility for track & field and a 2,450-seat indoor Velodrome – the VELO Sports Center – for track cycling. Dignity Health Sports Park is home to Major League Soccer's LA Galaxy, the five-time MLS Cup Champions. Dignity Health Sports Park is also home of the Los Angeles Chargers, United States Tennis Association's (USTA) High Performance Training Center, the national team training headquarters for the U.S. Soccer Federation (USSF) and EXOS, an international training center for elite and professional athletes.
SOBRE EL TOUR ÁGUILA
El TOUR ÁGUILA es el tour oficial de partidos amistosos del Club América en los Estados Unidos, donde las Águilas se miden frente a los mejores equipos de la Liga MX, MLS y ligas europeas durante su pretemporada y fechas FIFA. Estos partidos se juegan en los principales mercados hispanos de Estados Unidos.
Dignity Health Sports Park
18400 Avalon Blvd.
Carson, CA 90746